360° Instagram Stories Ad [New Marketing Strategy For 2019]
Welcome once again, brilliant human, to the go-to destination for new media digital strategy. We're an exclusive club here, building the future of digital marketing and brand storytelling on mobile with every new resource we share. If you're trying to stand out on social or elevate your digital presence this year, then you've got some learning to do 😉. Lucky for you it's all right here.
Let's do this thing.
Introducing M.A.Y.A.: "Most Advanced, Yet Acceptable"
As a digital strategist with a passion for immersive media, I'm a huge fan of Raymond Loewy's idea of MAYA. (Picked up on this in Hit Makers, an incredible book by Derek Thompson.)
MAYA means "Most Advanced, Yet Acceptable", and it's important for every marketer and storyteller to consider when plotting their next big idea. Raymond was an industrial designer, but his MAYA principle is of critical validity as digital strategy enters the immersive & interactive age.
When we are going to give our audience a cutting-edge experience, we can NOT get too far ahead of them. That's how an idea flops.
What we share needs to be exciting AND easily consumable. Just for good measure, I'm gonna throw another 🔥 quote from my man Raymond in here to get you jazzed.
Damn right Raymond. Read on to send your business up and to the right.
Want different results?
Stop doing the same thing.
In the case of driving growth for our businesses through Instagram, we need to somehow hack the behavior patterns our customers already have in order to generate new kinds of lift.
How are we going to do that?
Well if you're reading this right now, then here's something I'll assume you already know:
Instagram is a powerhouse for brands & marketers when it comes to building awareness, engaging audiences, and creating that deeper connection with your tribe. But every single one of your biggest competitors is right there with you.
Now here's something you probably don't know…
It's an idea for your next campaign that is going to yield amazing results. (Plus, in the process it's going to blow people's minds with something they've NEVER seen before on Instagram.)
With help from Beaumonde, you're going to use creative 360° content to bring people deeper into your story and supercharge the way you build a connection with your fans.
We make it easy to absolutely snap on your digital storytelling game:
1. We create killer interactive 360° content for you that is visually captivating and is optimized for mobile-viewing.
2. We make it easy-to-access in a way that doesn't require any new downloads, apps, or technology.
3A. You use Stories Ads to send users into your 360 creative within the Instagram app
AND / OR
3B. You set the 360 creative as your link in bio which users then enter within the Instagram app
4. Your audience is given a totally unique and interactive storytelling experience, and they actively EXPLORE the content you've shown them. They can click into all your essential media, products, events, social channels, and more, right from the 360° space.
It's that simple. And for accounts with more than 10k followers, the built-in swipe-up feature means you have an opportunity to bring your tribe deeper into your story every time you post.
How cool is this strategy, right? Here is an example of one way we've launched this concept as an Instagram bio link that takes users directly into the 360 space.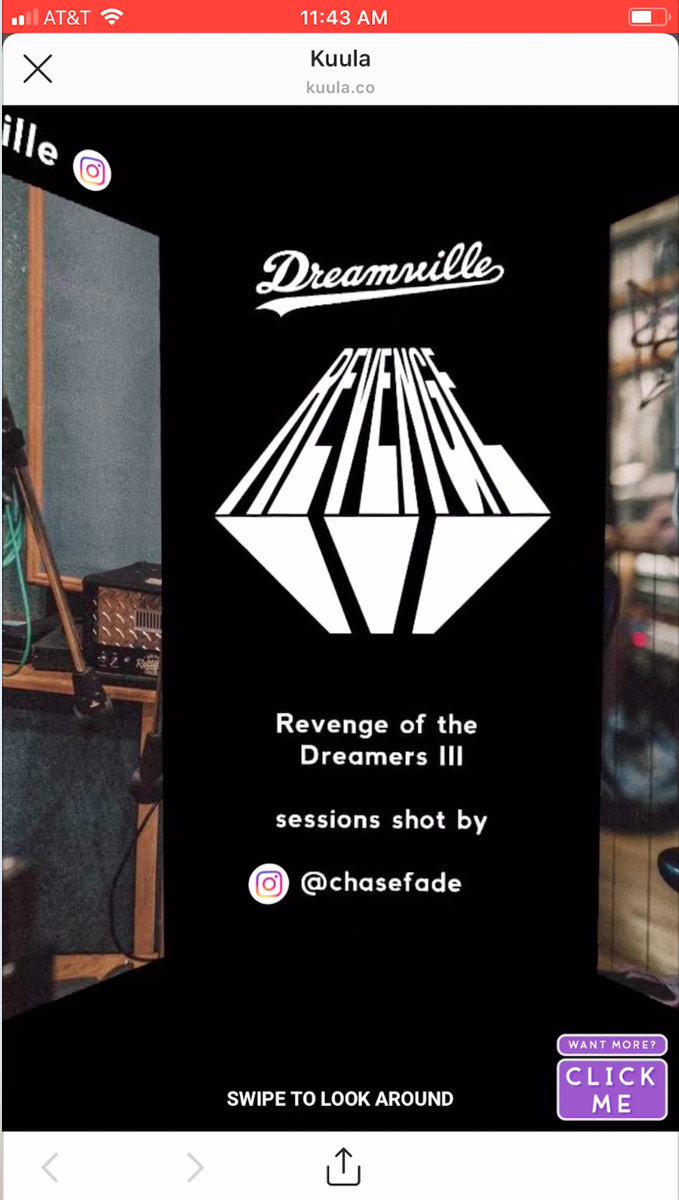 The best part is that this solution doesn't require any extra effort from your fans, followers, and customers. That's right, folks, nothing up my sleeves, nothing new for your fans to download, none of that hopped up "let's build an app" BS. It all happens inside Insta.
I'm PUMPED. And you should be too.
With our help you can engage your followers organically or with paid Instagram Stories ads in a very memorable way.
Now I want to be sure we end on a note of clarity. If you're an astute marketer, you'll be thinking to yourself, "I mean… this is cool and all… but does it convert?"
Well, besides giving your audience a completely new and memorable experience with your brand AT SCALE, here's a (not so) small list of what 360 creative can do when compared to flat creative on mobile:
Higher engagement (can average 10x on mobile, I've even seen 13x CTR)

Elevated brand recall (5x average)

Better view-through-rates (average 46% lift)

Better click-through rates (3x on average)

Increased social engagement (we've seen 2.5x average lift)

Higher organic sharing (huge wins in earned media, viral tagging on Facebook)

Better brand favorability

Lift in brand consideration

Lift in brick-and-mortar visits

Elevated product awareness
Yeah. That's a lot of reasons to get excited about 360 creative in your marketing mix. Plus, everything I mentioned above works on Snapchat too. 😎
At Beaumonde our goal is to make it easy for businesses and brands like yours to use new media in your digital strategies. We take care of designing the creative, we manage the distribution process, and we give you the custom marketing strategy you need to take audiences deeper into your story than ever before.
If you're ready to get started with one of the most unique & high-performing marketing strategies out there today, you can:
I hope you found this post useful and exciting. Leave us a comment with your thoughts and let's have a conversation.